In order to be able to continue to offer our customers suitable individual solutions for their future-oriented industrial processes, we have added a number of products and solutions to our product portfolio in recent months. In the following, we present these with a brief overview:
We will be happy to advise you on an individual solution for your specific requirements. Get in touch with us.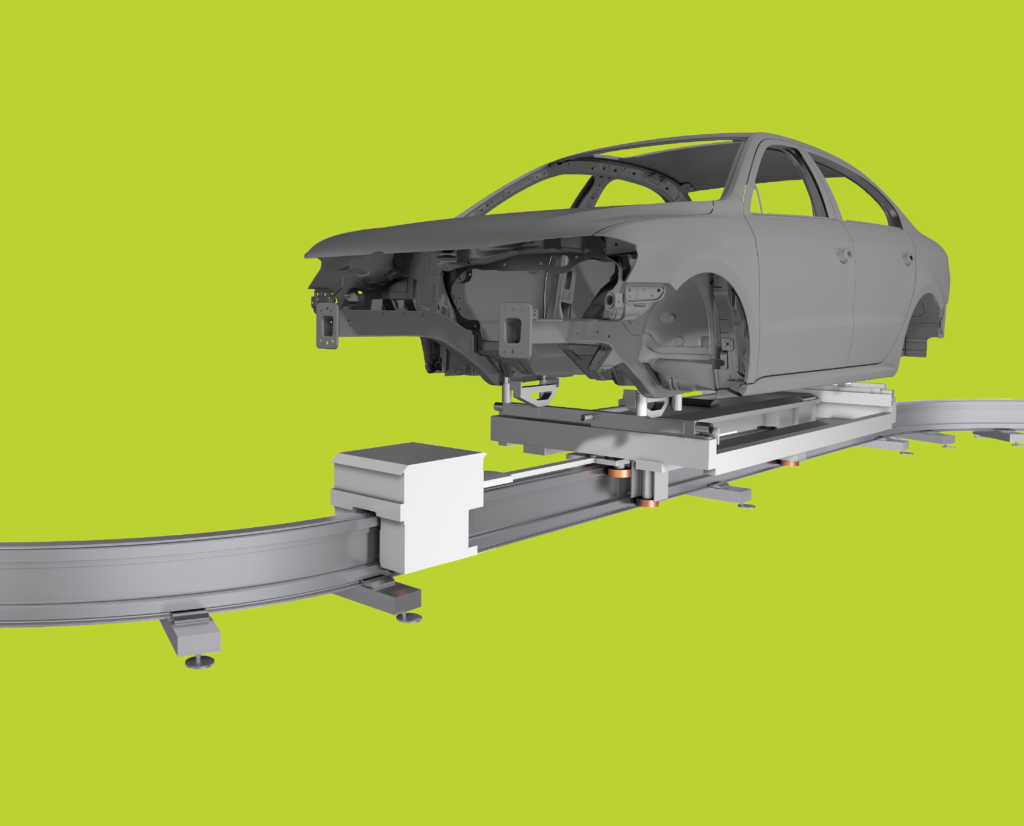 Flexible and highly dynamic transport solution for tasks in the logistics and automotive industries.
The LOGILINER incorporates the full control technology know-how of electrified monorail and floor track systems, which with their frequency-controlled high-performance trolleys have been among our customers' favorite material flow solutions for decades. Combined with the technology and individual rail guidance of the PENTANOVA monorail floor conveyor, a system has been created here with which both pallet transports and automobile bodies can be transported quickly and flexibly.
Fast, high throughput and maneuverable (even with heavy loads up to 1.2 tons)
Ideal conveyor concept for connecting different zones in automotive production (e.g. body shop with paint shop or paint shop with final assembly) or intralogistics
Easily scalable for fluctuating throughput volumes
Modular design enables individual, flexible routing
Easy to maintain, reliable, field-proven
Battery-powered electrified monorail system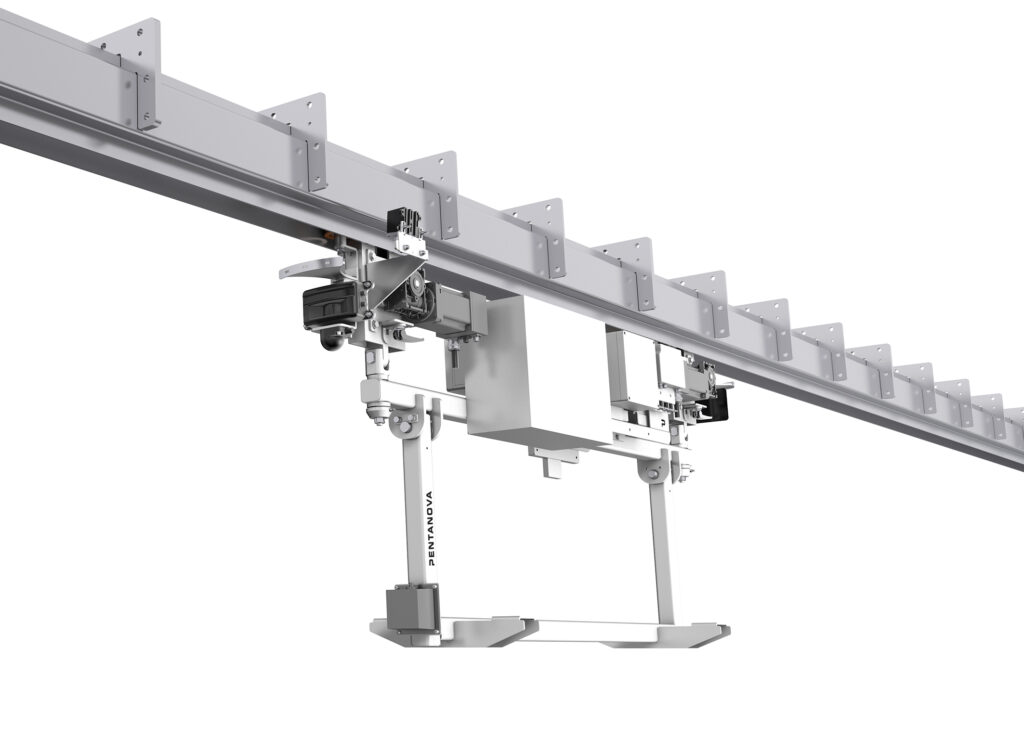 The battery-powered electrified monorail system enables energy-efficient and environmentally friendly operation of production and logistics facilities with self-generated energy.
The concept of the battery-powered electrified monorail system (EMS) was first presented at LogiMAT at the end of April 2023. By operating with direct current technology, self-generated energy can be used with this EMS system in the future. The battery-powered EMS is a fast system for complex and special requirements such as plants with many branches, confined spaces, clean room environments as well as areas at risk of fire (spark-free power transmission).
Easy and quick to install
Easily scalable
Operation possible without skilled personnel (easy to operate)
Low maintenance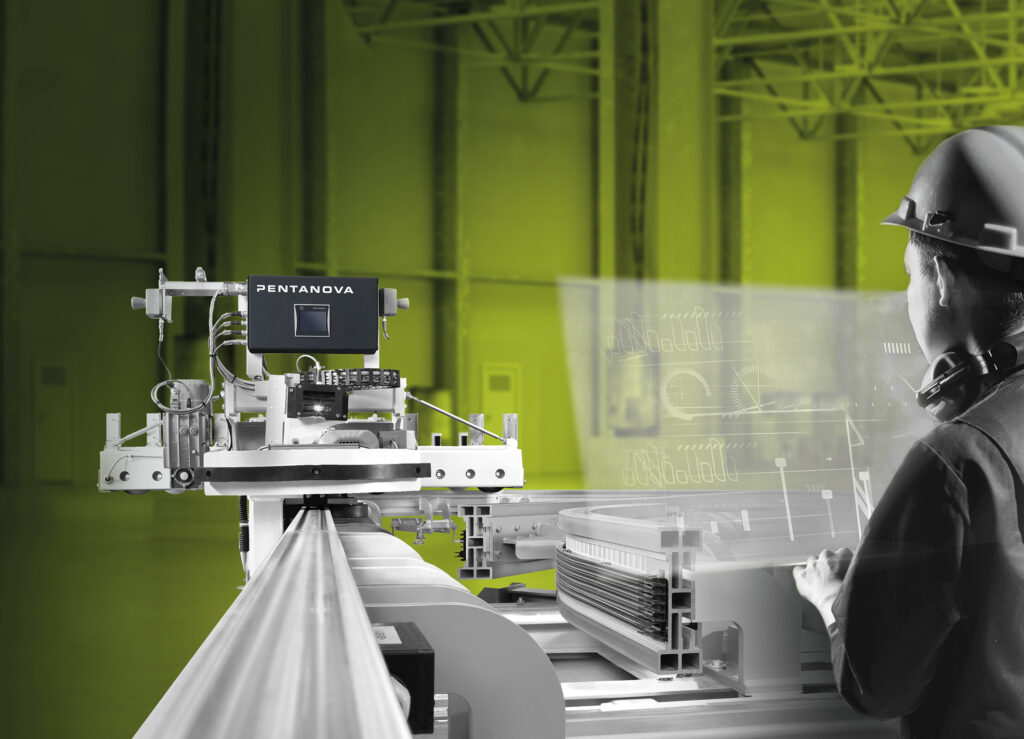 Smart monitoring with modern sensor technology enables preventive service.
With our predictive maintenance system, selected mechanical parts or components can be continuously monitored using sensors. This data enables detailed forecasts to be made about failure behavior, which in turn enables preventive service strategies and thus has positive effects on the functionality and service life of the plant.
Plannable maintenance operations
Higher plant availability by avoiding unscheduled shutdowns
Extending the life of a plant
Can be retrofitted in existing plants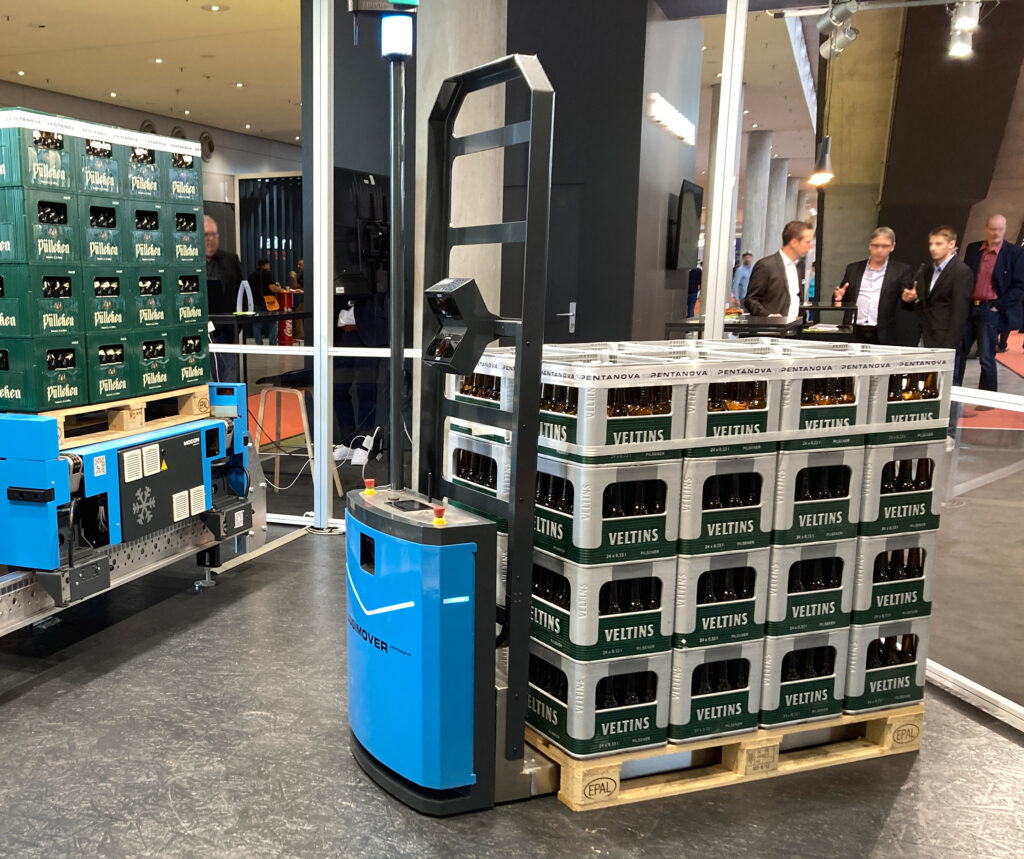 Flexible automated guided vehicle (AGV) for automated pallet transport in intralogistics.
The LOGIMOVER combines advanced technology with industrial design. It handles picking and transport tasks in production and warehouse logistics reliably, flexibly and independently.
Flexible: The advantages of the LOGIMOVER come into play especially in tight spaces, as it can move freely in all directions and can be easily integrated into existing systems.
Efficient and intelligent: Thanks to its high-performance accumulators and short charging times, the LOGIMOVER contributes to a continuous material flow and also adapts easily to fluctuations in dynamic material flows.
High-performance pallet shuttle solution for use in automated warehouses and production buffers in all industries
High performance at high storage density: LOGISHUTTLE consists of Shuttle and Satellite and is designed to operate at high throughput in compact warehouses around the clock.
Alternative to stacker cranes with optimized energy consumption
Maximum precision with absolute positioning of the machines and the destination of the pallets in the warehouse. Thanks to this flexible pallet positioning, the space in the channels is optimized and the storage area is maximized.
Flexible, modular and fully scalable - can be integrated into existing building structures
Your advantages with PENTANOVA
We develop your customized and high-quality solution. You benefit from our many years of experience and numerous references in intralogistics.
We deliver innovative ideas that are precisely tailored to your requirements. Our engineers and technicians share their know-how with you and explain everything in an easy-to-understand way.
We bring decades of experience in intralogistics to the table. As a former division of the plant engineering company Eisenmann, we bring extensive expertise in the planning, development and implementation of individual material flow projects. We continue to meet our high quality standards under our new name.
We grow with your company, if you want us to. PENTANOVA accompanies you from the first step in intralogistics to renewal, maintenance and refurbishment. Because your system should also be able to grow with your requirements.
Intelligent and fully automated processes are the future - so let's start with the implementation.
Do you have any questions about our new products from PENTANOVA?
Please feel free to contact us. Personal contact and cooperation in a spirit of partnership are our top priorities.